See below for information on The Rock Stops Here Group's new location in the Peppertree Square shopping center on the south side of NW Expressway. We are between MacArthur and Rockwell right behind the AutoZone and next door to the Karate Dojo.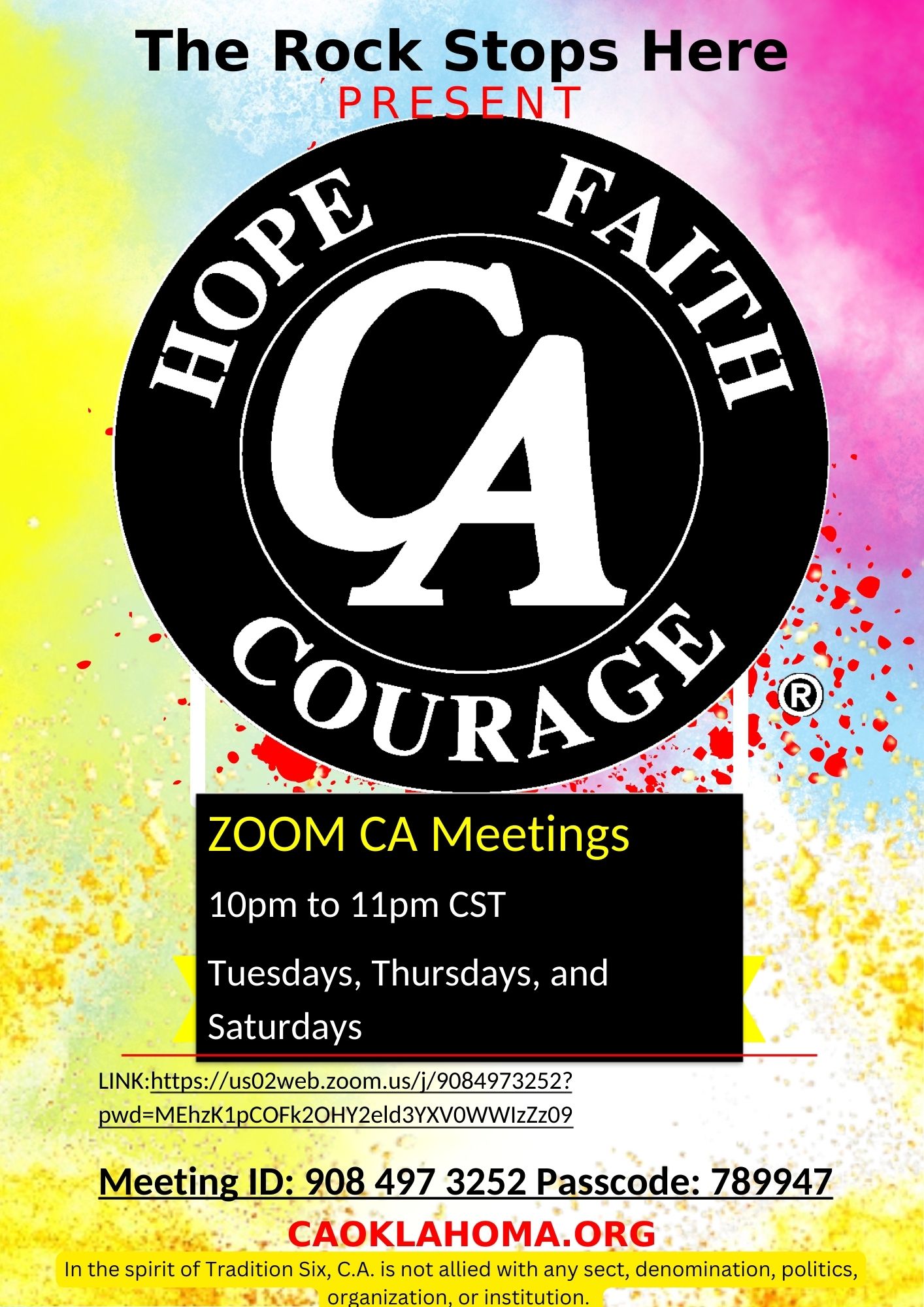 The-Rock-Stops-Here-Group
Meetings 7 days a week
New address 6444 NW Expressway Suite 241E Okc, OK 73102 (in Peppertree Square shopping center behind the AutoZone) as of Sunday, April 30th, 2023
New Meeting Schedule as of May 1st, 2023
Monday through Saturday – 8:00 pm – 9:00 pm, Friday – 6:30 pm – 9:00 pm, and Sunday 5:30 pm- 6:30 pm (additional 6:30 pm Tuesday night meeting coming Sep 5th!)
New Meetings Just added to the weekly lineup!!   Check out our new 6:30 pm meetings and get ready for the 12 Week / 12 Step Companion Guide Workshop that will begin Tuesday, September 5th. (Companion Guide Workbook is $15 * Please see Barry H. to obtain it before the start of the workshop)
6:30 PM Meetings – Fridays- Women's Meeting and Tuesdays– CA 12 Step Companion Guide 12 Week Workshop (Starting Tues September 5th)
8:00 PM Meetings – Monday– Big Book Study, Tuesday– Newcomers meeting, Wednesday– CA Literature, Thursday– 12 & 12 Meeting, Friday– Alternating Open Discussion or Open Big Book & 12&12, Saturday– Topic Discussion, and Sunday As Bill Sees it
Next Business Meeting November 4th, 2023 @ 9:15 pm IN PERSON at our new location!
(Group Meeting only that night)
Oklahoma Area Meetings will now be held via Zoom on the first Sunday at 3 pm every quarter beginning. (Jan, April, July, and October) Please use the below link to join the meeting
The Next Oklahoma Area Meeting of Cocaine Anonymous will be meeting Sunday, January 7th 2024 @ 1 PM via Zoom. See the WhatsApp group for more information on area matters and use the following Zoom link or manually enter the meeting ID/passcode in the app. Meeting ID: 908 497 3252 Passcode: 789947
Join Zoom Meeting
https://us02web.zoom.us/j/9084973252?pwd=MEhzK1pCOFk2OHY2eld3YXV0WWIzZz09
The next PI Committee Meeting will be held Sunday, August 6th, 2023  @ 4 pm in person at 6444 NW Expressway Ste 241E Okc, OK 73132.
______________________________________________________________________
Sunday Night Group
Sunday
7:00 PM to 8:00 PM
Serenity Outreach Ministries, Community Church
2801 North Missouri
Oklahoma City, Oklahoma  73111
______________________________________________________________________